The Problem
For years, Lulus has been driving style trends with its skillfully curated selection of dresses, tops and shoes. Its website and social channels have become go-to destinations for women searching for emerging designers and unique, chic looks.
Because of that, the company wanted to make inspirational imagery core to the customer experience. In doing so, Lulus had the following objectives:
Give its 1.1 million Instagram followers an easy, intuitive way to shop the products on the Lulus feed.
Showcase shoppable customer imagery on site — without a rights-management headache.
The Solution
Lulus wanted to showcase what their products look like in real life, on real people. So it was natural that they tap their dedicated group of followers on Instagram. Lulus fans are already sharing gorgeous imagery of themselves wearing the brand's clothing, and a simple search of #lovelulus produces a treasure trove of user-generated content (UGC).
Content in hand, Lulus partnered with Curalate to launch a gallery of shoppable user-generated imagery featured prominently on the Lulus site. See a Los Angeles fashion influencer wearing a black print wrap dress, sunglasses and leather moto jacket? Buy any part of the look directly from the gallery.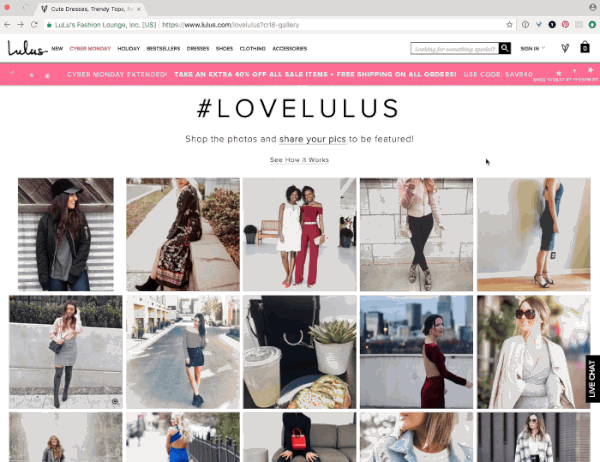 The Result
But rights management is a serious issue and Lulus wanted to make sure they were abiding by regulations. Curalate makes rights management as easy as asking a follower to respond with #yes.
"It's crucial to have a process where everyone feels good about engaging with Lulus on social," said Noelle Sadler, VP of Marketing at Lulus.
Curalate also lets Lulus quickly swap in the latest, most seasonal products.
"We change products quite frequently. That helps us match the galleries to whatever we're promoting on our homepage, helps with seasonality and helps us make sure we're not featuring products that have sold out. Our business model is set up that we will sell through certain merchandise. Fanreel gives us the flexibility to change things on the fly and provide the best customer experience."